About NERD - Named Entity Recognition and Disambiguation
Making sense of text requires understanding the who, what and where.
While humans do this naturally, machines struggle. Enter NERD. NERD identifies the entities in text — the companies, people, organizations, events, places etc. — and connects them to data and other information in S&P Capital IQ and Wikimedia, unlocking new understanding and insights.
No other solution offers NERD's combination of accuracy, general breadth and business and financial depth. See for yourself!
…entities recogizable by NERD!
NERD Overview
See the difference between NERD and the competition in the examples below.
While other solutions struggles with ambiguous names, abbreviations, nicknames and the like, NERD is able to disambiguate entities and connect them to S&P Capital IQ data.
Or if you have questions, reach out to us. We're happy to help!
NERD is a valuable tool for anyone dealing with high volumes of text, documents, or unstructured data.
For large enterprises, academics, financial or professional service providers, government bodies and more, NERD makes your text intelligible and searchable in a snap.
Rapidly identify emerging market trends, players and events for competitive intelligence.
Transform documents into troves of embedded information, supercharging research & analysis.
Use NERD annotations to make search, content recommendation and document routing smarter.
Analyze NERD output with linked S&P Global and Wikimedia data. Use NERD to develop and evaluate AI/ML models.
Quickly identify potentially sensitive and secret information for redaction. Data is only temporarily stored in order to perform the service.
New use cases for NERD appear all the time. Anywhere people, places and things need to be identified and managed. How can NERD help you?
Streamline Process
NERD streamlines operations by automating slow, manual workflows
Increase Discoverability
Reveal actionable insights by leveraging your unstructured data in new ways
Customer Centered
Increase customer engagement by making your solutions more valuable to users
Find our developer documentation, for building tools with the NERD's APIs and more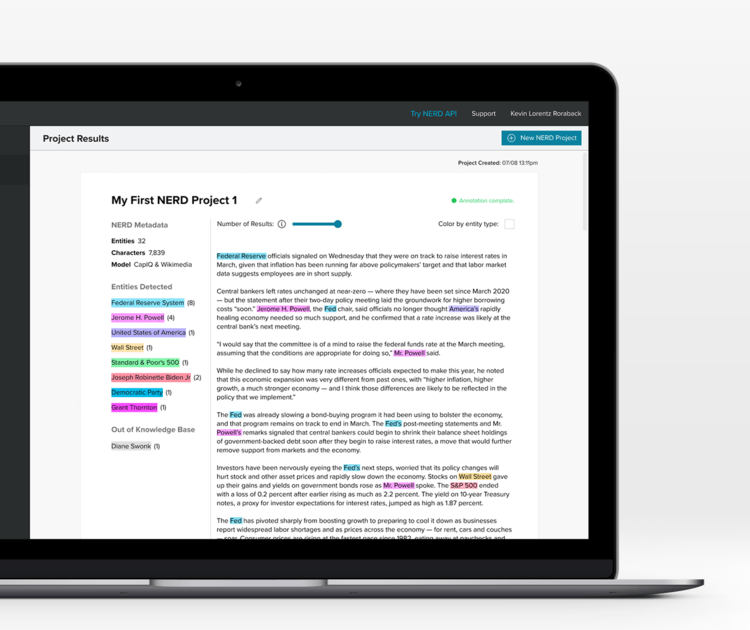 90% of data is unstructured, but 4 in 5 organizations can't effectively utilize it.
Unstructured data presents organizations with an opportunity to turn cost into intelligence and competitive differentiation. Read more here
Text is ubiquitous in unstructured data, whether emails, articles, documents, audio and/or video transcripts, reports, log files, presentations, social media posts, or any one of many other formats.
Like many organizations, S&P Global is awash with unstructured text data, with millions of documents, articles, transcripts, etc. generated each year. Effectively processing such data was a strategic imperative to find operational efficiencies, new revenue streams and business intelligence.
Kensho developed NERD to help S&P address this challenge. S&P Global has used NERD to great success. NERD has enriched 55M+ docs and has made 600M+ new connections to S&P Global's company databases. NERD can do the same for your organization; we are eager to help! Read more here
Frequently Asked Questions
NERD's entity predictions are market-leading for business and finance use cases as measured by F1, precision, and recall. In terms of its API, NERD is capable of handling more than 1 million characters in a single request and can respond synchronously or asynchronously.
NERD can support any language capable of making a REST API call, such as Python, R, Java, JavaScript, TypeScript, Ruby, Rust, and more.
If you would like to consume NERD's output as other entity types (e.g., Global Tax IDs, Moody's, Fitch, D&B Duns, LEI, etc.), we recommend using S&P's BECRS dataset. To learn more, contact us.
NERD is available as a pay as you go solution priced per thousand characters processed or through an annual subscription. Contact us to discuss what's right for you.
We are always open to exploring other knowledge bases. Contact us to discuss your needs.
Kensho combines the latest advances in machine learning with S&P Global's unparalleled data universe to train the models that make up NERD.
NERD is designed to recognize companies at the appropriate levels of their corporate hierarchies. Parent companies and their subsidiaries are both distinguished and represented according to the relationships contained in Capital IQ. NERD reports the most up-to-date information for these relationships -- even if the corporate hierarchies or names have changed.
NERD is accessed via REST API. Simply input your text, specify to which knowledge base(s) you would like to link, and get your results. NERD's results are returned as a list of JSON annotations, each corresponding to a mention of an entity in your document. Each annotation will include: Location of the entity in the text, Entity Name, Entity ID in either Capital IQ or Wikidata, Entity Type and other relevant metadata. We have built and helped customers build other ways to consume NERD, such as a Microsoft Excel plug-in. If you are interested in such options, please contact us.
Kensho takes your privacy and security seriously. Data submitted to NERD is only temporarily stored in order to perform the service and is secured from being accessed by others. Contact us to learn more.